Name :

Moreno Luisa

Age :

25 Years




Cut :

5'.5''

Weight :

125 Lb




bosom :

34B

Nationality :




Situation :

Married 1 year ago




Why this video :

My husband works every night. He never has time for me. At the weekend he is too tired, he is resting. I warned him 10 times that I did not come from Cuba to have a life without sex! He did not seem to take my claims seriously. Too bad for him. I assume and I do not care if he will see the video or not ...




I love :

Dance, the sun, Che Guevara, Baseball, sex (especially sodomy).




I do not like :

The climate of Paris, the French grammar, the men who think Cubans are easy girls.




My fantasies :

I do not have I realized them all


Message for her husband :

Sorry darling, but my libido is up, I really need someone to take care of me. I'm too lonely and I need to be ... with envy. Again, sorry my little husband



| | |
| --- | --- |
| Maria 23 y.o | |

Barmaid, Cheat on her husband :
Married for 2 years
posted the : 03-10-2012

| | |
| --- | --- |
| Emilie 23 y.o. | |

health care aid, Cheat on her husband :
Married for 1 year
posted the : 02-02-2012

| | |
| --- | --- |
| Samira Racheilde | |

dressing table, Cheat on her husband :
Married for 6 years
posted the : 01-02-2012

| | |
| --- | --- |
| Lena Gaillard | |

factory, Cheat on her husband :
married for 2 years
posted the : 31-01-2012
dialogue :

Question : Hello Sweety
Luisa : Hi
Question : What's your name ?
Luisa : Luisa
Question : It's a very nice name. Where from?
Luisa : Cuba
Question : I can feel the accent
Luisa : Right
Question : Can you explain us what we are doing here in a car?
Luisa : I'm waiting for a guy I have an appointment with… Then we'll see what's gonna happen!
Question : Basically, you're married?
Luisa : Yes I am! My husband is working every night. And I need… Something. You know what I'm saying
Question : This is the reason why you're here tonight
Luisa : Yep
Question : If I had a wife like you, I wouldn't go to work at night. Do you mind if I look at you? Well I confirm that I wouldn't go to work. And you don't have scruples at all to cheat on him?
Luisa : No, no
Question : At all?
Luisa : No. I definitely need to have sex, so NO!
Question : How do you say in your language: "I want to have sex"
Luisa : Ok ok, let's join this lucky guy
Luisa : Yes
Question : Hello
Luisa : Hi
Question : How are you?
Luisa : Do you see darling. When you'll stop working, I'll kiss you that way…
Question : He will enjoy that one!
Question : If he watches the video, you won't care?
Luisa : No, I won't
Question : You're that way… Are Cuban girl all the same kind?
Luisa : He'd better stop working…
Question : Ok, understood… Are we going to an hotel?
Luisa : Yep
Question : Let's go… Please!
Novelty
---
Cinthya 27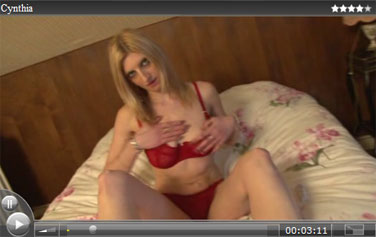 Accountant, trompe son mari
Married for 18 months
---